Having just come off of Lush's Halloween Party
"Zombie Rave"
I'm off to Salem!
If you didn't already know about
Radio Golgotha
then you really should check them out. My next radio show is scheduled for Sat Oct 31 2pm-5pm and it's titled "Operation:Destroy">
---
DJpet is running sound and lighting for TF in Salem
---
DJpet is running sound and lights for TF at the Bangkok Paradise. We are going to blow the noodles out of there!
---
DJpet is running sound, lighting, and DJing @ the Church
---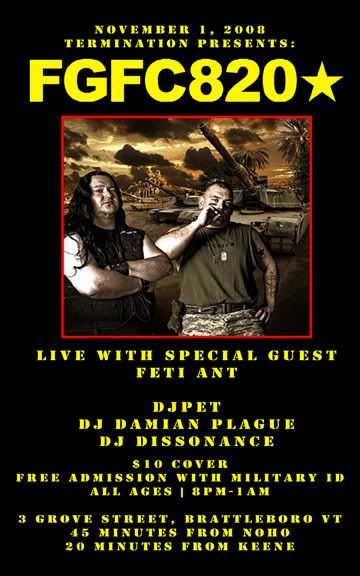 DJpet is back running sound and lights at the Church. If there is any in there, we are going to shake the hell out of it! At the very least the pipe organ will be clean :)
Get your war on! DJpet unleashes the mother of all industrial bombs on Vermont. Bring your military ID and get in for free!
---
DJpet hits the decks in Salem
---
DJpet hits the decks at the Bangkok Paradise while you attempt to finish the scorpion bowl! Expect an eclectic mix of spicy EBM and dancefloor industrial with just a sprinkling of well aged favorites.
---
DJpet is back with another Lush night!
---
Come out to Lush's Thanksgiving Synthpop party on the Third Thursday in November. DJpet spins from 9:30 to 1:00am all of your synthy favorites.
---
ACP launches print and web services for Voltaire
---

Click to go to the ticket ordering page for the Dec 13th concert!
---
ACP is @ ur club makin ur cads
---
Let ACP take care of the art and cards for your next event. We have relationships with printers that will guarantee quick turnaround with high quality 14pt cardstock and ultra high gloss UV coating for the same price as those flimsy cards you see around town.
Email us for a free quote
The next month or two are pretty busy for me. I have two sound gigs as well as two mobile DJ gigs. It seems that I am getting a lot more art/printing gigs as well, as I picked up the Voltaire concert flyer gig too!