Featuring guest DJpet and residents Soular Bear, Dissonance and Nocté.
July 5, 2008.
Sorry for the short notice RE: July's events. This has been a busy month for our staff! We hope you'll be able to celebrate the long weekend with us up here in Vermont...
---------- | ---------- | ----------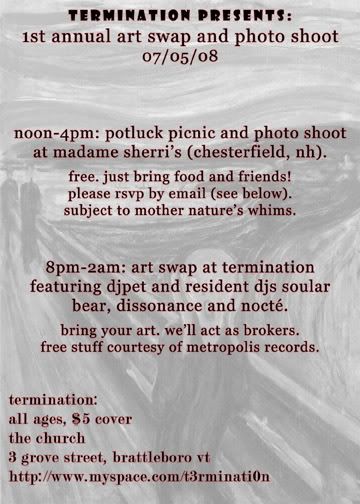 07/05/08, Noon-4pm: potluck/picnic and photo shoot at Madame Sherri's.
We are organizing a small picnic and photo shoot at
Madame Sherri's in nearby Chesterfield, NH
. We will meet at the Riverside Plaza/NH Liquor Store between noon and 12:15.
For directions click this link and check out our blog on MySpace.
Models: dress your gothic and industrial best! Photographers: bring business cards so we can network!
The picnic is a potluck event. Bring enough food for yourself, your guests and maybe one or two other people. There's no admission...just bring food, yourself and some friends. After the photo shoot there will be a few hours of down time for folks to explore the area a bit. Ask any of our staff and we'll point you to the best places to eat, drink, swim and enjoy some window shopping.
Please RSVP for the picnic/photo shoot by emailing t3rminati0n.vt@gmail.com so we can gauge interest and re-confirm our place to meet up before going to Madame Sherri's. If possible please provide a phone number where we can reach you in case the weather turns against us. If we are unable to do the picnic/photo shoot we will arrange a meet up in town so we can all grab lunch.
07/05/08, 8pm-2am: Termination, featuring guest DJpet and our 1st Annual Art Swap!
8pm-2am | All ages | $5 cover
The Church | 3 Grove Street | Brattleboro, VT 05301
Dress code preferred but not enforced
We're honored to have special guest
DJpet (Boston, MA)
spinning with our resident DJs Soular Bear, DJ Dissonance and DJ Nocté. We will also have more free stuff courtesy of Metropolis Records.
Have you been looking to sell or trade your art, or maybe add some new pieces to your collection? Then our 1st Annual Art Swap was dreamed up just for you. Here's the gist: bring in any art that you'd like to part with and we will put it on display. We will provide a card so that you can list the price of your piece(s) and a quick note as to whether you'll accept a trade for someone else's art (optional). At midnight we'll call you all together and you can haggle with potential buyers/traders/sellers. At the very least you'll get exposure. At the very best you might come home with some amazing art.
Please note: due to space limitations please don't bring more than two large pieces of art, or anything absolutely huge. There will be a table set up for smaller pieces of work.
---------- | ---------- | ----------
Termination: Vermont's only dark music and cultural event.
http://www.myspace.com/t3rminati0n
Termination presents: 1st Annual Art Swap and Photo Shoot.